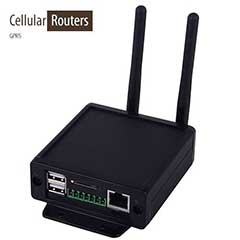 ECL-RTR 2G router is supplied in a robust aluminium housing and function at a wider range of temperatures.
It supports DNS, NAT, NTP, VRRP, DHCP Server/Client, TFTP Server, Open VPN, IPsec. It has hardware watchdog. As an ethernet device can directly be connected to ECL-RTR, optionally devices having RS232/RS485 can be connected to ECL-RTR through a second optional interface. It has been designed with analogue inputs and digital in- and outputs, making it suitable for industrial machine communication applications. IoT applications can be developed using Linux. ECL-RTR routers offer a rugged and efficient network.
An integral firewall, IPsec and VPN transmission technologies provide applications with comprehensive protection. Simple, user-friendly configuration of the routers using the integral Web server or an XML file can be carried out both locally and remotely.
DNS
NAT
NTP
VRRP
DHCP Server/Client
TFTP server
Open VPN
Hardware Watchdog
Zone management
Port Forward
Traffic Rules
Custom Rules
GPRS
Ethernet 10/100
Bridge interfaces
Zone management
Firewall status: IPv4/IPv6
Routes: ARP, Active IPv4-Routes, Active IPv6-Routes, IPv6 Neighbours
Processes
Real-time Graphs
FCC, IC, IP54
PTCRB
R&TTE/CE GCF RoHS/WEEE/CCC
GSM 07.07, GSM 07.05, GSM 03.40, GSM 04.11, GSM 03.38, GSM 11.10-1, GSM 02.30, GSM 03.90, GSM 11.14, ITU-T V.25ter, SMG31, GSM 05.02, ETSI 07.60, ETSI 0.7.07